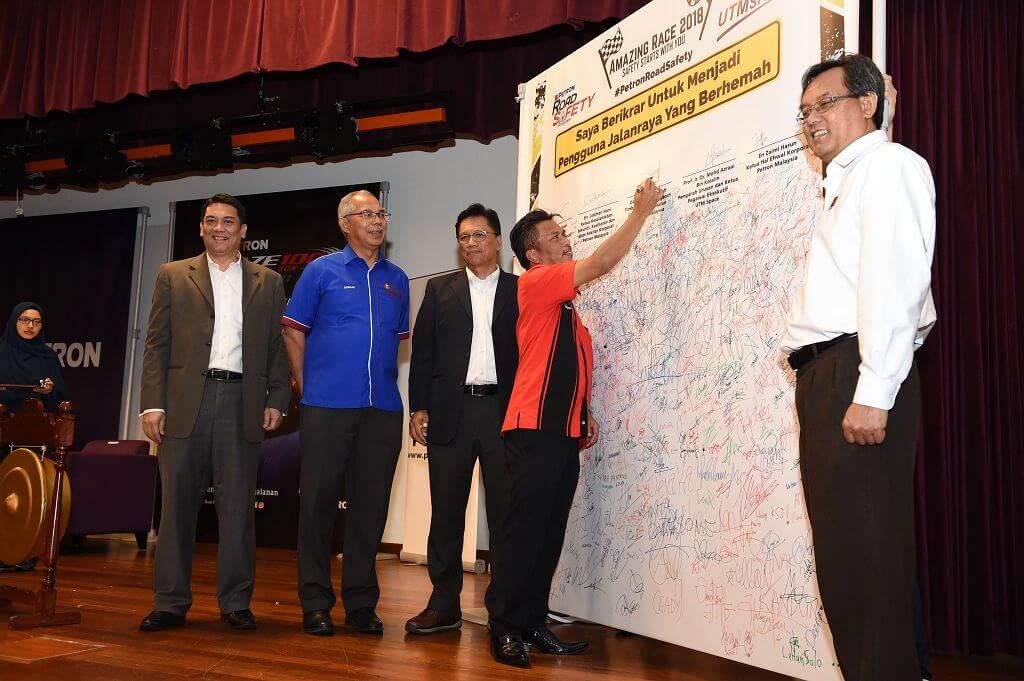 KUALA LUMPUR – Petron, one of the leading oil companies in Malaysia, embarks on its 5th year of raising awareness on road safety particularly among the youth.
Working closely with its long-term partner, Malaysia Road Safety Department (JKJR), Petron will bring its Road Safety Program to seven local universities, targeting to improve the road safety practises of 5,000 students.
"We are pleased to bring our Road Safety program, our biggest and longest running advocacy, to more universities together with the Malaysia Road Safety Department. Our objective is to educate and inculcate good driving habits and important road safety skills especially among the younger generations," said Petron Head for Corporate Safety, Security, Health and Environment
Lokman Hani.
Offering a new way to learn proper road safety habits, Petron launched an 'Amazing Race Game' at Universiti Teknologi Malaysia, officiated by the Deputy Director General of Malaysia Road Safety Department YBhg Datuk Roslan Bin Eusoff. An overwhelming 843 students from UTMSPACE participated in the first leg of the program.
"Road Safety is and has always been, a key priority for the Ministry of Transport and this commitment is underpinned by the introduction of Malaysia's Road Safety Plan 2014 – 2020 that focuses on five (5) Strategic Pillars. It is in line with global efforts through the United
Nation's Decade of Actions for Road Safety 2011 -2020 with the goal of reducing forecast level of road accident fatalities by 50% by the year 2020.
"Malaysia has recorded an average of 6,800 deaths due to road traffic accidents annually for the past 10 years. Although the number was reduced from 7,152 deaths in 2016 to 6,740 deaths in 2017, much still need to be done. Study has shown that the main cause of road
accidents was attributed by the bad attitude of our drivers.
"Proud to become Petron's strategic partner in promoting road safety throughout the nation, JKJR believes that Petron Road Safety Program can cultivate students to adhere to the rules and regulations on the road whilst becoming more competent and knowledgeable in road safety," said Malaysia Road Safety Department Deputy Director General Datuk Roslan Bin Eusoff at the launch of the program today.
This year, Petron Road Safety program tackles road safety in a fun, exciting and interactive manner. Teams compete in an 'Amazing Race' challenge as they raced through four 'road safety pit stop' ranging from answering road safety quizzes, identifying faulty tyres, interpreting road safety signage, and completing parking tests including a motorbike maneuvering challenge. The first three teams with the correct answers in the shortest time will win the race.
"We are thrilled to introduce this new approach, which goes beyond just classroom learning. Through this, we believe that we will be able to reach more students and effectively teach them how to have safer journeys, prevent accidents and ultimately save more lives," Lokman added.
"UTMSPACE and UTM Holdings Sdn Bhd are truly honored for the opportunity given to host and engage road safety awareness with our students since 2017. The concept of Corporate Social Responsibility campaign emphasizes on road safety ensures positive and social effects. Being a program partner will genuinely help to deliver public value outcome by focusing on how we can make a difference in the community," said UTMSPACE Chief Executive Officer and Managing Director Professor Ir. Dr Mohd Azraai Kassim.
Petron's Road Safety partners – Malaysia Road Safety Department, Road Transport Department, Honda Malaysia, and tyre expert Michelin – joined Petron in its effort to communicate and impart its road safety advocacy. The event also featured Nestle's brands; Maggi and Nescafe adding more fun and excitement to the race event.
"Michelin has always been a strong advocate for safety – we place the upmost priority to ensure that our tyres are the safest on the road, in all conditions. We are very pleased to be a part of this program as it is not only in line with our own road safety campaign, but it gives us the opportunity to raise awareness to the university students in particular, that tyres are an essential part of road safety," shared Mr. Duy Pham, Marketing Manager, Michelin Malaysia. Petron also opened the Amazing Race challenge to 43 members of the media, taking them through the exciting game.
Besides UTMSPACE, Petron will visit Universiti Malaysia Pahang, Universiti Sultan Zainal Abidin Terengganu, Universiti Selangor, Universiti Tun Hussein Onn, Universiti Tenaga Nasional and Universiti Teknologi Malaysia Skudai from September through December.
Last year, Petron Road Safety Program reached 4,665 university students from seven universities around Malaysia. Since its launch in 2014, the program has reached about 8,000 students from various local universities.
"We are inspired to reach more students to promote good road safety practises. We attribute the long-running success of our program to our strong partnership with the Malaysia Road Safety Department, participating universities, and road partners in sharing proper road ethics and responsible driving with students," continued Lokman.
Petron's Road Safety Program is aligned with the objectives of the United Nations Decade of Action for Road Safety 2011-2020, a global advocacy that promotes safe driving through strict observance of traffic laws, use of seat belts, wearing of proper helmet for motorcyclists, among others.