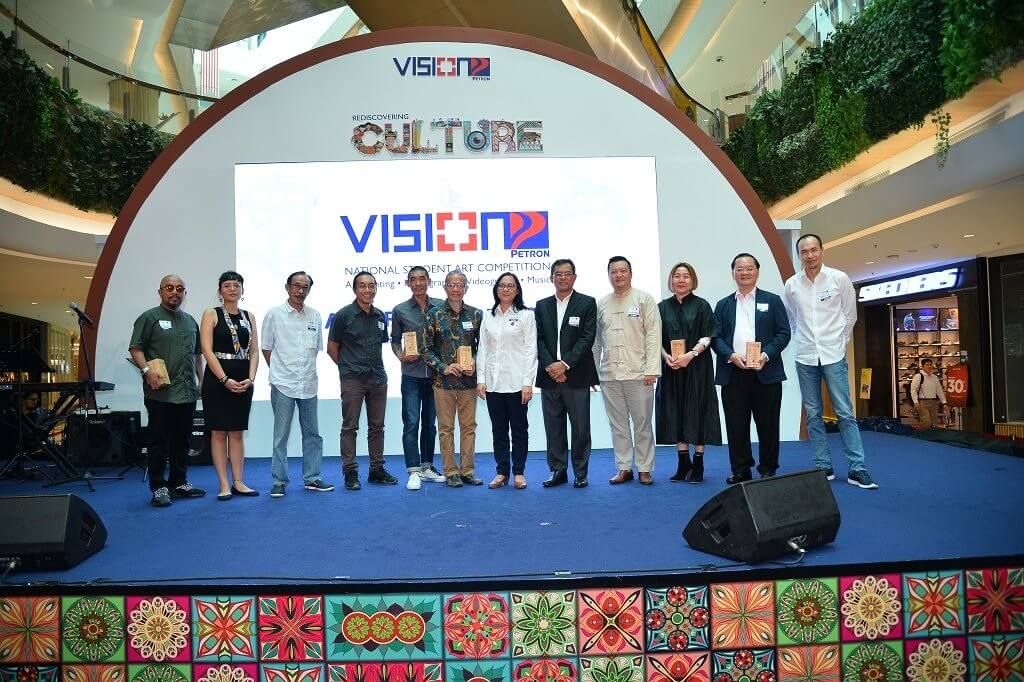 KUALA LUMPUR – Twenty-four (24) talented art students from all over Malaysia were announced as winners of the 6th Vision Petron National Student Art Competition in the award ceremony held on September 12. With 1,676 entries, this marks the most number of
participants in the renowned art competition.
Muhammad Akif bin Muhammad Azmi from Universiti Teknologi MARA (UiTM) Shah Alam emerged as the grand winner in the art painting category, beating 475 other hopefuls through his artwork called Traditional Batik.
In the Photography category, Mohammad Syamil bin Mohd Rasli from Multimedia University (MMU) beat 1,068 entries to claim the grand prize with his masterpiece titled Love and Tradition. Photography had the most number of entries among the four categories in the
competition for 2018.
Featuring a brilliant visual language paired with an excellent choice of music and movement, Rest at Trap (R.A.T.) by Muhammad Amin Bin Kamarul Bahar from UiTM Shah Alam was selected as the grand prize winner in the Videography category from a total of 98 entries.
For Music Composition, a new category introduced this year, dynamic duo from Akademi Seni Budaya Dan Warisan Kebangsaan (ASWARA), Sim Er Wen and Sim Li Wei took home the grand prize beating 34 entries with the song entitled Melodi Malaysia.
"We are pleased to continue promoting nation building through Vision Petron. With the highest number of entries this year, Vision Petron will continue to serve as a platform for young student artists and talented visionaries to express their ideas and spark inspiration for others," said Faridah Ali, Head of Retail Petron Malaysia.
The winners were chosen by a panel of judges based on originality, composition, and creativity, technical skills, and on lyrics, melody and musical arrangement for music composition. The lineup of judges for this year include established artists Bibi Chew, Maamor Jantan and Nicholas Choong for painting; Ng Kok Leong, Dr. Nick Ng and Yaman Ibrahim for photography; award winning filmmakers James Lee, Nadira Ilana and Tan Chui Mui for videography; and music composers Fauzi Marzuki, Ng Chor Guan, and Azmyl Yunor for music composition.
INTI International College Subang submitted the most number of entries with a total of 473. Other participating institutes of higher learning include Universiti Teknologi MARA, Malaysia Multimedia University, Universiti Sains Malaysia, Malaysian Institute of Art, SEGi College, Management and Science University, Tunku Abdul Rahman University College, Politeknik Ibrahim Sultan Johor Bahru, University Selangor, Akademi Seni Budaya dan Warisan Kebangsaan, UCSI University, Universiti Putra Malaysia, Universiti Pendidikan Sultan Idris, and Universiti Malaysia Sarawak.
"Congratulations to all the winners. It is always inspiring for us to see the wealth of talent and creativity of Malaysian students and to be able to stimulate their interests through this competition. We are very excited to continue encouraging new talents and help young artists
achieve their dreams," commented Faridah.
Grand prize winners received a cash prize of RM3,000, while second and third place winners received RM2,000 and RM1,000 respectively including exclusive Petron premium items worth RM500 each. The fourth, fifth, and sixth placers each won RM500 and exclusive Petron premium items worth RM200 each. All winners were also presented with trophies and certificates of participation. Full winners list in the appended document.
More than winning these prizes, the winning artworks are recognized by top national artists and put on display at The Starling Mall Damansara Utama Petaling Jaya. This is done in order to give the students an even greater sense of achievement as they continue to pursue their journey as artists.
The competition was open to all local and international students studying in local colleges and universities between the ages of 18 to 28 years old. For more information about the competition, log on to http://visionpetronmalaysia.com.