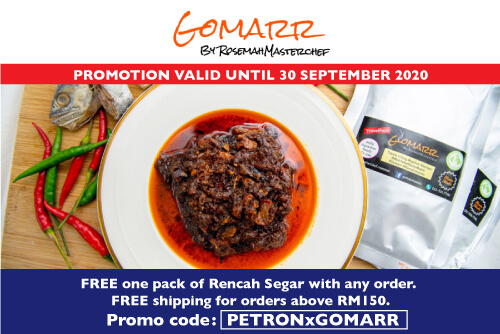 Check out Resepi Warisan Salai Rosemah Masterchef Facebook to take orders!
Don't forget to redeem a pack of FREE Rencah Segar with any order. Shipping is waived with RM150 purchase or above!
Use campaign code PETRONxGOMARR for redemption upon your order via WhatsApp
Terms & Conditions
1. Promotion is valid from 15 August – 30 September 2020.
2. Get one pack of Rencah Segar with any order from Gomarr.
3. Free shipping for orders above RM 150.
4. Customers can inquire and make orders via Gomarr Facebook.
5. Customers are required to mention the campaign code PETRONxGOMARR to redeem for the free item or free shipping.
6. Not valid with other voucher code and promotions, unless otherwise stated.
7. Gomarr and Petron reserve the right to change the terms and conditions or cancel any promotions at any time without prior notice.