Be a part of Petron Malaysia
Our employees are our brand ambassadors and our most valued assets. As we continue to expand our business, we are seeking for fresh talents and high performing individuals who share our core values, who are dynamic and innovative, with the drive to make a difference and are fuelled to succeed.
Organizational Development and Employee Relations Coordinator Human Resources
Responsibilities:
ORGANIZATIONAL DEVELOPMENT
a) (Engagement/Employees Feedback) – Engagement Survey & Focus Group
– Redesign Engagement Survey for continuous improvement and based on feedback
– Conduct survey results analysis for management reporting
– Support and monitor implementation of action plans
– Coordinate focus groups for brainstorming/checks/specific needs groups
– Provide follow-up / action plans
b) (Engagement/Team alignment) – Teambuilding Program
– Assist to establish teambuilding's objectives based on company's needs
– Coordinate with vendors and business lines on the theme and curriculum
– Ensure program is implemented consistently across all departments
c) (Engagement/Culture): ExCITES Program
– Assist to provide the necessary advice to ExCITES team in implementation of various ExCITES programs
– Assist to monitor progress of ExCITES programs & prepare progress updates required by Management
– Provide new ideas and implement any new company culture related programs
d) (Development/Employee Growth)
– Prepare and coordinate new supervisor coaching/tea talk series
– Assist in the design and implementation of employee development initiatives (mentoring, career)
– Monitor and review the above programs' effectiveness
EMPLOYEE RELATIONS
a) (Engagement/Employees Communication): Employee Talk Sessions
– Coordinate face-to-face talk sessions with various group of employees
– Prepare feedbacks from the employees
b) (Engagement/Employees Communication): Employee Bulletin
– Editor of regular Employee Bulletins to support ExCITES & PKLRC
– Introduce new and maintain any channels/tools use for employee communication
c) (Engagement/Employees Work-Life Balance) – Petron Kuala Lumpur Recreational Club (PKLRC)
– Assist to provide the necessary advice to PKLRC to ensure activities are aligned Company's direction
Requirements:
Candidate must possess at least a Bachelor's Degree, in Human Resources or Psychology or Management Studies with minimum 3.0 CGPA.
At least 3 year(s) of working experience in the related field is required for this position.
Applicants must be willing to work in Damansara Heights.
Procurement Associate Procurement
Responsibilities:
Recommend and implement various purchasing strategies and process improvements regarding quality, inventory management, service level and supply chain optimization
Evaluate quotes and bids, negotiate contract terms and conditions with vendors to provide required component bids and analyse all vendor performance to improve purchasing processes
Administer everyday activities of all purchasing staff and monitor all purchasing activities and design various cost effective methods according to demands.
Evaluate and maintain all reports for inventory reorders and provide and effective interface with internal departments
Develop and maintain professional relationships with all suppliers; manage all supplier contracts and assist to administer best pricing strategies
Requirements:
University degree in Business Administration, Marketing or Engineering.
Preferably 3-5 years working experience in Procurement.
Strong negotiation and communication skills.
Ability to convince in writing.
Construction Engineer, Retail Network Expansion Group
Responsibilities:
Coordinate and monitor construction and facilities management, underground petroleum pipelines, motor fuel equipment of our retail service stations
Perform facilities and assets maintenance, surveillance, safe system and other related equipment to ensure the retail petrol station's smooth operations in delivering services and fuel products to customers
Oversee all maintenance of convenience store equipment & building, interior and exterior signage
Attend onsite to visually inspect and monitor work performance, job completion, environmental issues while observing government codes
Prepare and monitor functional plans and budgeting to ensure effective construction project costing
Manage timelines and prepare regular work progress and KPI reporting to management
Work closely with and provide support to retail acquisition team, sales support team and other functional teams
Requirements:
Degree in Mechanical, Civil or Electrical Engineering with outstanding academic results
Minimum 2 years' experience in construction engineering
Strong project management and communication skills
Possess meticulous attention to detail with sound analytical and problem solving skills
Willing to travel and to be based in Peninsular or East Malaysia
Sales Planning Analyst, Retail
Responsibilities:
Manages the development of, reviews and endorses for approval Retail and Commercial Sales medium-term and long-range strategies and directions as per Company objectives (Business Plan).
Provides Retail and Commercial Sales management with analytics reports on financial and sales performance through monthly reporting. KPI reviews as well as weekly highlights.
Conduct and perform special research commissioned by management which includes evaluation of the current market industry trends and developments, review of alternatives and recommendation.
Develop the Retail Demand Forecast for use of Supply and Crude Planning.
Consolidation of respective Retail and Commercial business performance and evaluating it against Plan.
Liaise with various functions within the organization.
Requirements:
Degree in Statistics, Economics, Engineering, Finance preferable with CGPA minimum 3.50 or equivalent.
Minimum 3 years' related experience.
Strong analytical as well as interpersonal skills.
Good communication and presentation skills.
Instrument Technician, Refinery (Port Dickson)
Roles & Responsibilities:
Performs instrumentation, communication equipment, analysers and electronic equipment and related maintenance (both preventive and routine), repair, installation and construction work including testing and calibration under guidance/ supervision from Instrument Senior Technician I/ Supervisor.
Troubleshooting of instrumentation failures/problems and process power systems control problems.
Writes reports on instrumentation repair/troubleshooting or system control problem work performed as assigned by the supervisor, keeps/maintains update records on instrumentation maintenance or repair work done and records daily work in the Instrument Workshop.
Carries out other Instrument/Electrical/Electronic related work or other related duties as the supervisor may assign from time to time.
Assists and participates in practical, theoretical & troubleshooting work in instrumentation, control electronic and safety when directed by the supervisor.
Assists the supervisor in daily work planning and schedule such as observing safety rules and regulations and sees that such rules and regulations are observed by personnel/ contractor directed, ensures that the work place is safe and utilizes and operates safety apparatus required, maintains good housekeeping in work areas and participates in all Company safety programs.
Operates pick-up trucks to carry out maintenance of repair work when necessary in safe and orderly manner and housekeeping of the said equipment/vehicle after use.
Obtains and utilizes tools from workshop storage places, required for the work being performed & Ensures the safekeeping and good working condition of all tools used and returned to the place from where they are stored.
Obtains material spares from the warehouse for maintenance or repair work as per Warehouse Issuing Procedures, repairs the replaced parts, informs the supervisor in writing of out-of-stock spares and recommends not-in-stock spares frequently required for the job.
Directs contractor personnel as and when they are assigned.
Carries out responsibilities of Senior Technician I (Instrument/Electrical) during Senior Technician I's absence from work as directed.
Leads groups of other personnel (including contract personnel) performing instrument and related works of function assigned.
Requirements:
Diploma in Instrument/Electronics or related with minimum CGPA 3.00.
Minimum 3-5 years' related experience.
Strong background in electronics.
Willing to be based at Port Dickson Refinery.
Territory Manager, Retail Sales
Responsibilities:
Manage a network of Retail Fuel Service Stations and lead service station dealers to achieve operational excellence
Drive marketing programs in order to achieve planned volume, revenue, and margin growth
Actively keep a pulse on market and competitor activities and recommend strategic plans to maximize sales and profitability
Build and maintain strong relationships with service station dealers with regular site visits and team meetings, to ensure continuous delivery of outstanding customer service
Work closely with customer service, business support, supply chain, distribution, and governing bodies
Requirements:
Degree in any related field
Preferably 2 years' experience in Retail or Sales related field
Strong interpersonal, negotiation and analytical skills
Fresh graduates with outstanding academic results are also encouraged to apply
Willing to travel and possess own transport
Willing to be based throughout Malaysia (Flexibility in relocating)
Process Engineer, Refinery (Port Dickson)
Responsibilities:
To perform/initiate process engineering studies and process design as well as providing technical assistance in the daily operations of the plant.
The major emphasis is on achieving safe operations, high efficiency and optimum operations (flawless operations).  
Investigate, troubleshoot plant issues and develop the most economical and practical solutions.
Initiate new ideas and develop them into practical engineering proposal for implementation.
Optimize plant operations in terms of efficiency and meeting the targeted operations parameters in the face of varying crude supply and product demand environment.
Monitor plant performance on a periodic basis in order to maintain high efficiency.
Participate in plant turnaround activities and provide technical assistance in plant startup/shutdown and catalyst regeneration.
Participate in Task force/committees and network
Keep abreast with latest technology with view to utilize ideas in project design and problem solving.
Establish procedures for equipment startup / shutdown, catalyst regeneration. Also participate and supervise above jobs when assigned.
Requirements:
Candidate must possess at least a Degree in Chemical Engineering.
Minimum 3 years' experience in Petroleum refinery plant.
Initiative, good interpersonal skill, industrious and effective communication.
Proficiency in spoken and written English and Bahasa Malaysia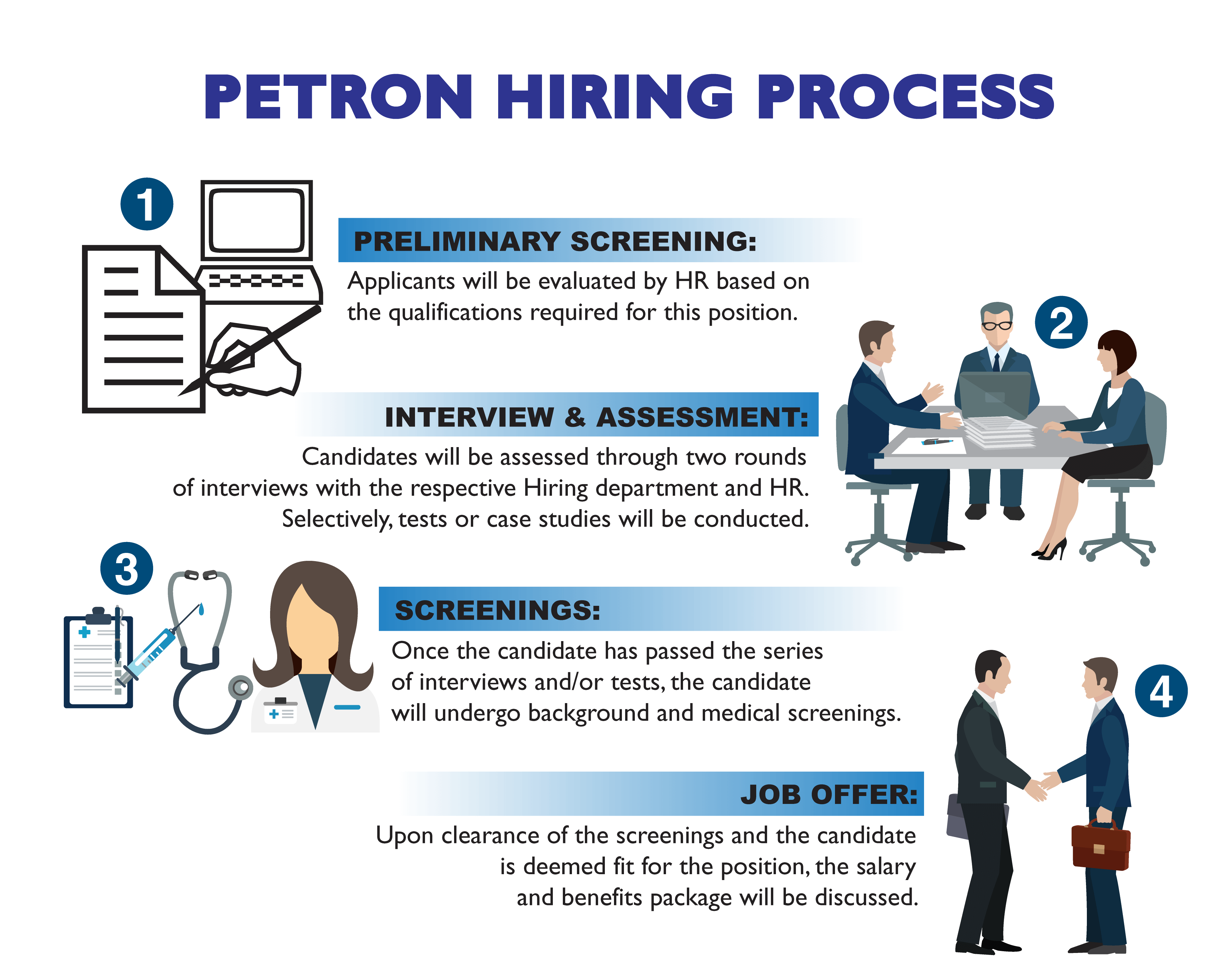 Interested? Please submit your resume to us at career@petron.com.my to secure an opportunity to grow with Petron.
For your enquiries, you may call us at +603-20828400 or +603-20828600
Please be aware that there have been numerous recruitment scams and fraudulent communications from organisations or individuals, purporting to act on behalf of Petron Malaysia and its subsidiaries in Malaysia, on false employment opportunities that have been circulating in emails, websites and printed materials.
Please note that all employment offers from Petron Malaysia and its subsidiaries in Malaysia are carried out officially and candidates are required to undergo a formal recruitment process. Petron Malaysia does not engage any recruiting or placement agencies that charge candidates an advance payment, fees or charges (e.g., placement fees, immigration processing fees, etc.) in the course of recruitment.
If you receive any communications that are doubtful in nature or request for personal and financial details, do not respond to the email as this may lead to cases of identity theft. We advise all job seekers who wish to join Petron in Malaysia to check for available positions that are advertised here in our official website or website of legitimate recruitment agencies and periodic advertisements in the newspapers.
Alternatively, you could direct your enquiry or interest of employment to our Human Resource Department at career@petron.com.my.