Be a part of Petron Malaysia
Our employees are our brand ambassadors and our most valued assets. As we continue to expand our business, we are seeking for fresh talents and high performing individuals who share our core values, who are dynamic and innovative, with the drive to make a difference and are fuelled to succeed.
Instrument Technician, Refinery
Roles & Responsibilities:
Performs instrumentation, communication equipment, analysers and electronic equipment and related maintenance (both preventive and routine), repair, installation and construction work including testing and calibration under guidance/ supervision from Instrument Senior Technician I/ Supervisor.
Troubleshooting of instrumentation failures/problems and process power systems control problems.
Writes reports on instrumentation repair/troubleshooting or system control problem work performed as assigned by the supervisor, keeps/maintains update records on instrumentation maintenance or repair work done and records daily work in the Instrument Workshop.
Carries out other Instrument/Electrical/Electronic related work or other related duties as the supervisor may assign from time to time.
Assists and participates in practical, theoretical & troubleshooting work in instrumentation, control electronic and safety when directed by the supervisor.
Assists the supervisor in daily work planning and schedule such as observing safety rules and regulations and sees that such rules and regulations are observed by personnel/ contractor directed, ensures that the work place is safe and utilizes and operates safety apparatus required, maintains good housekeeping in work areas and participates in all Company safety programs.
Operates pick-up trucks to carry out maintenance of repair work when necessary in safe and orderly manner and housekeeping of the said equipment/vehicle after use.
Obtains and utilizes tools from workshop storage places, required for the work being performed & Ensures the safekeeping and good working condition of all tools used and returned to the place from where they are stored.
Obtains material spares from the warehouse for maintenance or repair work as per Warehouse Issuing Procedures, repairs the replaced parts, informs the supervisor in writing of out-of-stock spares and recommends not-in-stock spares frequently required for the job.
Directs contractor personnel as and when they are assigned.
Carries out responsibilities of Senior Technician I (Instrument/Electrical) during Senior Technician I's absence from work as directed.
Leads groups of other personnel (including contract personnel) performing instrument and related works of function assigned.
Requirements:
Diploma in Instrument/Electronics or related field
Minimum 3-5 years' related experience
Strong background in electronics
Willing to be based at Port Dickson Refinery
Rotary Technician, Refinery
Roles & Responsibilities:
 Responsible for performing preventive and corrective maintenance activities for rotating and other equipment
Works in compliance to safety requirements and procedures to ensure the availability and integrity of the installed equipment and systems as needed for safe and reliable operations
Executes mechanical repair work such as replacements, alignments including overhauling on all type rotating equipment
Conducts regular inspection and testing procedures and carry out necessary follow-up actions required
Troubleshoots system and control issues
Assists in daily work planning and schedule
Operates and house-keeps required equipment according to safety requirements
 Requirements:
 Preferably 2­-3 years' experience in Rotating Equipment service & maintenance
Minimum Diploma in Mechanical Engineering or equivalent
Familiar with handling precision tools such as caliper and micrometers
Possess good command of English and Bahasa Malaysia
Any vocational qualification is an advantage
Willing to be based in Port Dickson Refinery
Metal Job Leader, Refinery
Roles & Responsibilities:
Possessed good knowledge in mechanical related work eg. welding, pipe installation, fixed equipment, crane lifting, confined space, QA/QC
Familiar with Maintenance & Repair (M&R) and shutdown total scope of work
Working closely with the Maintenance and Construction organizations to drive alignment and foster an effective working relationship between the Business Team, the Mechanical Function and the Engineering organization
Jointly prepares with contractors or reviews Job Safety Analysis (JSA) prepared by contractors for all work to be performed prior to further review/sign-off by incumbent's supervisor
Signs & "own" the execution work as project/maintenance work permit recipient/work performer before contractors' sign/receive the work permit. Job includes conducting safety talk and filling up handover forms
Ensures the Work Permit procedures/requirements are fully followed / complied by contractors
Attend or review contractors' site Tool-Box-Talk for non-critical/lower risk work during routine rounds/visits and signs off the attendance record
Signs off all critical work checklists (e.g. crane lifting, OPE, etc.) required to be checked by Project/Maintenance Job Leader before allowing work to proceed
Observes all safety rules and regulations and ensure the contractors perform their work according to SOC (Safe-Operating-Committee)
Monitors and reports progress of site work. Detail daily report to be send to respective department
Monitors work quality of contractors and reports any non-compliance of quality standards. Adhere to the Job QA/QC & handover process
Requirements:
Diploma in Mechanical Engineering or equivalent
5 – 10 years' experience in Petrochemical industry with strong technical and analytical competency in fixed equipment
Experience in Pre-commissioning, Commissioning and Start-up of process unit is an advantage
Experience in project construction work, plant shutdown & turnaround is an advantage
Good planning, supervisory, teamwork and interpersonal skills. Ability to work independently and manage multiple activities and people
Possess good command of English
Willing to be based at Petron Port Dickson Refinery
Analyzer Technician, Refinery
Roles & Responsibilities:
Reliability Engineering Section
Perform maintenance, calibration & troubleshooting for refinery process analyser

Site maintenance task for analyser including analyser validation test
Troubleshooting if have any analyser failure, including on-call basis

Identify required spare part and retrofit work for process analyser

Advise any needed spare parts and quantity based on site experiences
Modification and retrofit on existing process analyser system for analyser continuity operation or improvement

Support and advise analyser engineer regarding process analyser (equipment improvement, new technology and maintenance task)
Lab Section
Support on troubleshooting, repair and advise for lab equipment (faulty and new installation unit)
Doing correlation study between lab equipment and online analyzers
Requirements:
Diploma in Mechanical, Mechatronics, Electrical & Electronics or any related field
3-5 years' experience in Petrochemical industry
Possess good command of English
Willing to be based at Port Dickson Refinery
Laboratory Technician, Refinery
Roles & Responsibilities
Perform lab tests required to maintain quality of process streams, finished products, and discharged wastes
Ensure all data are accurate and details of all tests are recorded and retained
Compare test results against targets, norms, and/or specifications and liaise with the appropriate personnel accordingly
Prepare and standardize all necessary reagents in accordance with specified methods
Prepare quality reports and maintain records of all test results
Prepare summary reports on non-routine samples, test cross-check programs and report on minor technical experiments to troubleshoot plant problems
Maintain and calibrate laboratory equipment to ensure they are in good and accurate operating condition
Maintain equipment/test under statistical control through SQC (Statistical Quality Control Systems for Historical Data)
Maintain lab inventory and lab procurement system
Observe safety rules and good housekeeping practices; conduct safety talk
Carry-out basic troubleshooting and calibration of lab testing equipment
Requirements
Diploma in Technical related
Preferably 1-2 years' experience in Laboratory related work
Possess good communication skills with good command of English and Bahasa Malaysia
Willing to work on shift cycle
Willing to be based at Port Dickson Refinery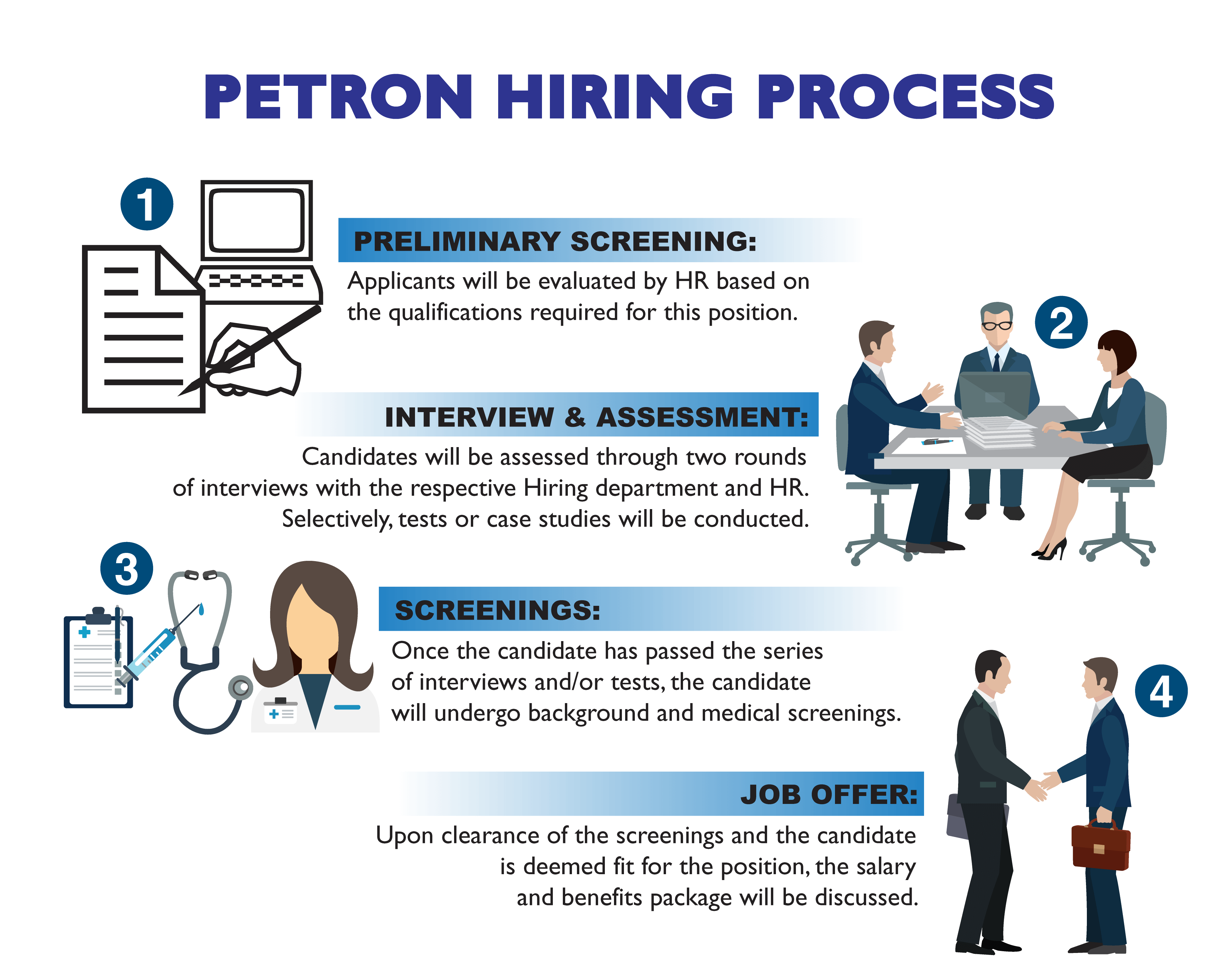 Interested? Please submit your resume to us at career@petron.com.my to secure an opportunity to grow with Petron.
For your enquiries, you may call us at +603-20828400 or +603-20828600
Please be aware that there have been numerous recruitment scams and fraudulent communications from organisations or individuals, purporting to act on behalf of Petron Malaysia and its subsidiaries in Malaysia, on false employment opportunities that have been circulating in emails, websites and printed materials.
Please note that all employment offers from Petron Malaysia and its subsidiaries in Malaysia are carried out officially and candidates are required to undergo a formal recruitment process. Petron Malaysia does not engage any recruiting or placement agencies that charge candidates an advance payment, fees or charges (e.g., placement fees, immigration processing fees, etc.) in the course of recruitment.
If you receive any communications that are doubtful in nature or request for personal and financial details, do not respond to the email as this may lead to cases of identity theft. We advise all job seekers who wish to join Petron in Malaysia to check for available positions that are advertised here in our official website or website of legitimate recruitment agencies and periodic advertisements in the newspapers.
Alternatively, you could direct your enquiry or interest of employment to our Human Resource Department at career@petron.com.my.