Be a part of Petron Malaysia
Our employees are our brand ambassadors and our most valued assets. As we continue to expand our business, we are seeking for fresh talents and high performing individuals who share our core values, who are dynamic and innovative, with the drive to make a difference and are fuelled to succeed.
Shift Chargeman, Refinery
Roles & Responsibilities:
To ensure electrical equipment are maintained as per required specifications and regulations under the Energy Commission Malaysia
To inspect and repair all electrical equipment or experience in all repair works on site
To prepare complaint reports based on notification of defects from mechanical and electrical sections
To inspect and monitor works of sub­contractors based on work instructions
To conduct final inspection and acceptance with sub­contractor upon completion of any repairs works
Perform Preventive Maintenance on building equipment and system including HVAC system
To undertake other duties and responsibilities as required
Requirements:
Electrical Chargeman BO 11KV Certificate issued by Energy Commission (EC) Malaysia
Minimum SPM or equivalent
At least 2-3 years working experience in the related field
Possess good communication skills with good command of English and Bahasa Malaysia
Willing to be based in Port Dickson Refinery
Distributor Business Advisor, Commercial
Roles & Responsibilities:
Lead and manage distributor network specialising in lubricants and specialties business
Drive marketing programs to achieve planned volume, revenue, and margin growth
Provide guidance to distributors on lubricants and specialties business in close coordination with other line of business and Technical Advisor to accomplish distribution coverage objectives
Provide critical link between Petron and distributors for supply chain related matters including ordering, delivery, standard offer and demand planning
Develop and support the distributor network, focusing on the growth of premium and high margin products
Identify and secure new business opportunities
Job Requirements:
Degree in Engineering, Business or Economics
Preferably 3 years' experience in Lubricants, Petroleum product or sales related field
Strong interpersonal, negotiation and analytical skills
Willing to travel and possess own transport
Maintenance Engineer, Distribution & Terminal Operations
Roles & Responsibilities:
Responsible for the maintenance of terminal facilities, machinery and equipment to ensure sustainable reliability in supporting the daily operations of the terminal
Develop and implement routine maintenance programs and process improvements regarding equipment reliability to achieve efficient operations with minimal unplanned downtime
Coordinate and execute all routine and preventive maintenance functions consistent with high operating standards regarding security, safety, health and environment protection requirements
Lead and guide the maintenance team in performing troubleshooting, conducting regular inspections and recommend corrective actions as necessary
Ensure work orders and work permits are issued and executed timely, completely and safely by the maintenance team, third party maintenance contractors and service providers
Assume the role as Operation leader in the Terminal's Emergency Response Team as required
Requirements:
Degree in Engineering with outstanding academic achievement
Minimum 1-2 years' experience in maintenance of terminal or chemical plant.
Strong interpersonal skills with good command of English & Bahasa Malaysia
Good initiative and well versed in Microsoft office applications
Willing to be based at Westport Terminal
Assistant Terminal Manager, Distribution & Terminal Operations
Roles & Responsibilities:
Lead and implement safety, controls, product quality and business control in the day-to-day operations at the terminal
Operate the plant efficiently at minimum costs to be consistent with high operating standards regarding security, safety, health and environment protection requirements
Responsible for the receiving and storage operations of bulk petroleum products from refinery whilst ensuring all safety, quality, quantity standards and specifications are met in a timely manner
Oversee maintenance of terminal, delivery facilities and equipment to ensure sustainable reliability
Conduct regular safety, health and environment briefing and execute programs to employees and contractors under assigned shift
Identify and address areas of operational efficiencies, facilities upgrade and personnel skill development
Ensure month-end inventory reconciliation processes are reviewed and any variations accounted for
Build and maintain effective operational interfaces with refinery, third parties, government authorities, service providers, Retail, LPG dealers and customers
Requirements:
Degree in Engineering with outstanding academic achievement
Minimum 3-5 years' supervisory experience in petroleum plant operations including safety and controls
Person of high calibre possessing a great sense of responsibility and dedication
Strong leadership, analytical and communication skills
Willing to be based at Pasir Gudang Terminal
Development Specialist, Retail Network Expansion Group
Roles & Responsibilities:
Coordinate with various stakeholders to develop, construct and stream Dealer Owned Dealer Operated (DODO) new service station
Ensures that DODO projects are meeting the timeline and design & standard compliance
Build rapport with various authorities and stakeholders
Prepare proposal for DODO CAPEX investment
Manage and explain contractual obligation with stakeholders
Prepare regular internal reporting on DODO project progress and make recommendations
Perform periodic site visit
Perform other tasks that may be assigned by the Supervisor from time to time
Requirements:
Degree in Business or Real Estate
Must be able to understand Conversion, Development Plan and Building Plan processes
Strong analytical, organizational and planning skills
Demonstrated ability to manage internal and external relationships.
Self-motivated and ability to work with limited supervision
Willing to travel and be relocated
Data Analytics & Consumer Insights Advisor, Marketing
Roles & Responsibilities:
Drive organizational data analytics roadmap through system and process improvements
Apply advanced analytical and modeling method (multivariate statistics, predictive modelling, regression models) to improve customer retention, engagement, and conversion
Translate data analytics and research into actionable consumer insights to guide marketing and business strategy with clearly defined business success metrics
Propose experimental designs to optimize campaigns across marketing channels to increase margin and profitability
Provide comprehensive analysis of funnel conversion, perform ad-hoc deep-dive on user behavior, and visualize the findings in dashboards
Manage dashboarding across marketing campaigns to monitor effectiveness of campaigns and analyze performance by combining with media and consumer information
Prepare regular internal reporting to communicate campaign and experiment results and make recommendations to stakeholders
Develop the annual market research plan and ensure effectiveness of budget to support business' needs
Derive consumer insights through the integration of internal and external data sources including market sensing, brand health, campaign effectiveness and customer segmentation
Passionate about new technologies and developments in research, media, retail, consumer and digital
Job Requirements:
Degree in Statistics or Data analytics
Minimum 5 years in statistical analysis and experimental design
Experience with data visualization tools in building reports and dashboards
Proven marketing capability, agency and budget management
Strong analytical, organizational and planning skills
Ability to communicate insights verbally, visually, and written
Demonstrated ability to manage internal and external relationships.
Self-motivated and ability to work with limited supervision
Proven ability to function effectively in a team environment MS Office applications Word, Excel, PowerPoint
Real Estate Specialist, Real Estate
Roles & Responsibilities:
Engage third party valuer for property valuation on potential petrol service station sites
Negotiate for optimum lease rental and purchase prices
Prepare and follow ­through agreement from drafting to signing
Develop and maintain good relationships with landowners and relevant councils; assist in resolving any land permitting issues
Work closely with the retail acquisition team, sales support team on economic viability and construction team on land permits
Liaise with controllers on land amortization
Initiative to lead projects as and when required
 Requirements:
Degree in Property Development / Real Estate Management
Minimum 5 years' working experience in real estate property
Strong in communication and negotiation skills
Energetic team player with positive attitude
Proficient in Microsoft applications
Receivables Accounting Analyst, Finance
Roles & Responsibilities:
Perform daily payment posting and reconciliation
Perform clearing on invoices against payments.
Monitor daily payment and follow-up on overdue
Coordinate collection of checks from customer
Monthly SAP transaction postings for Account Receivables
Monthly reporting to internal stakeholders such as Trade Debtors Aging, Trade Debtors Overdue and Cash Collection report.
Adhoc requests including reprinting of cash receipts or payment advice
Other tasks relating to the above as assigned by the Company
Requirements:
Degree in Business Administration (Finance) or Accounting
Preferably a member of Malaysian Institute of Accountants or the Association of Chartered Certified Accountants or Certified Public Accountant.
Preferably 1-3 years' experience in Accounting, Auditing & Gross Margin Analysis
Proficient in SAP application is an advantage
Strong analytical and interpersonal skills
Network Security Administrator, IT Division
Roles & Responsibilities:
Administer and support the network and security Infrastructure of the Company
Support, troubleshoot and rectify any network incidents and problems within SLA on network infrastructure which includes routers, switches, wireless access points, firewalls, and IP telephony to ensure compliance with security policies
Perform installation, development, testing and deployment of new request or project based on required specifications
Perform system configuration according to security policy and guidelines, and remediate any issues on security promptly
Provide Level 2 support to monitoring team and monitor all critical alerts on systems and ensure it is resolved
Manage project delivery and implementation by vendors
Perform documentation, reports related to operations and projects
Requirements:
Bachelor's Degree or Diploma in Computing/Information Technology or equivalent
Minimum 3 years' experience in a similar role
Attended / certified with CCNP or CCNA
Possess hand-on skill in operating network devices including configuration, troubleshooting
Strong knowledge in TCP/IP networking with good understanding of routing and switching technology
Knowledge in IT security
Strong problem solving and analytical skills and ability to work together in a diverse team environment
Available to be on call to attend network issues after office hour
Admin Assistant, Procurement
Roles & Responsibilities:
Organize all meetings, communication sessions, employee travel plans followed up, visitor management
Manage / update all personnel files / vacation / medical reports / contract manning
Manage Records Management Activities i.e. Records retrieval, housekeeping and disposition of the Procurement Refinery
Create and process LVPO and request order for all purchases, invoices, process payment and follow up with Account Payables

Compile e-bids submission and escalate to respective buyer in strictly confidential manner

Prepare P-Card transaction log for monthly purchases/expenses
Coordinate with contract vendors on 3rd party contract
Manage office supplies / festive cards / diaries / calendars for the department
Requirements:
Possess Diploma or Degree in any related fields
Minimum 3 years' working experience, preferably with knowledge of SAP
Good in computer skills – Microsoft office
Able to work independently 
Strong interpersonal skills, good communicator, time management
Willing to be based at Port Dickson Refinery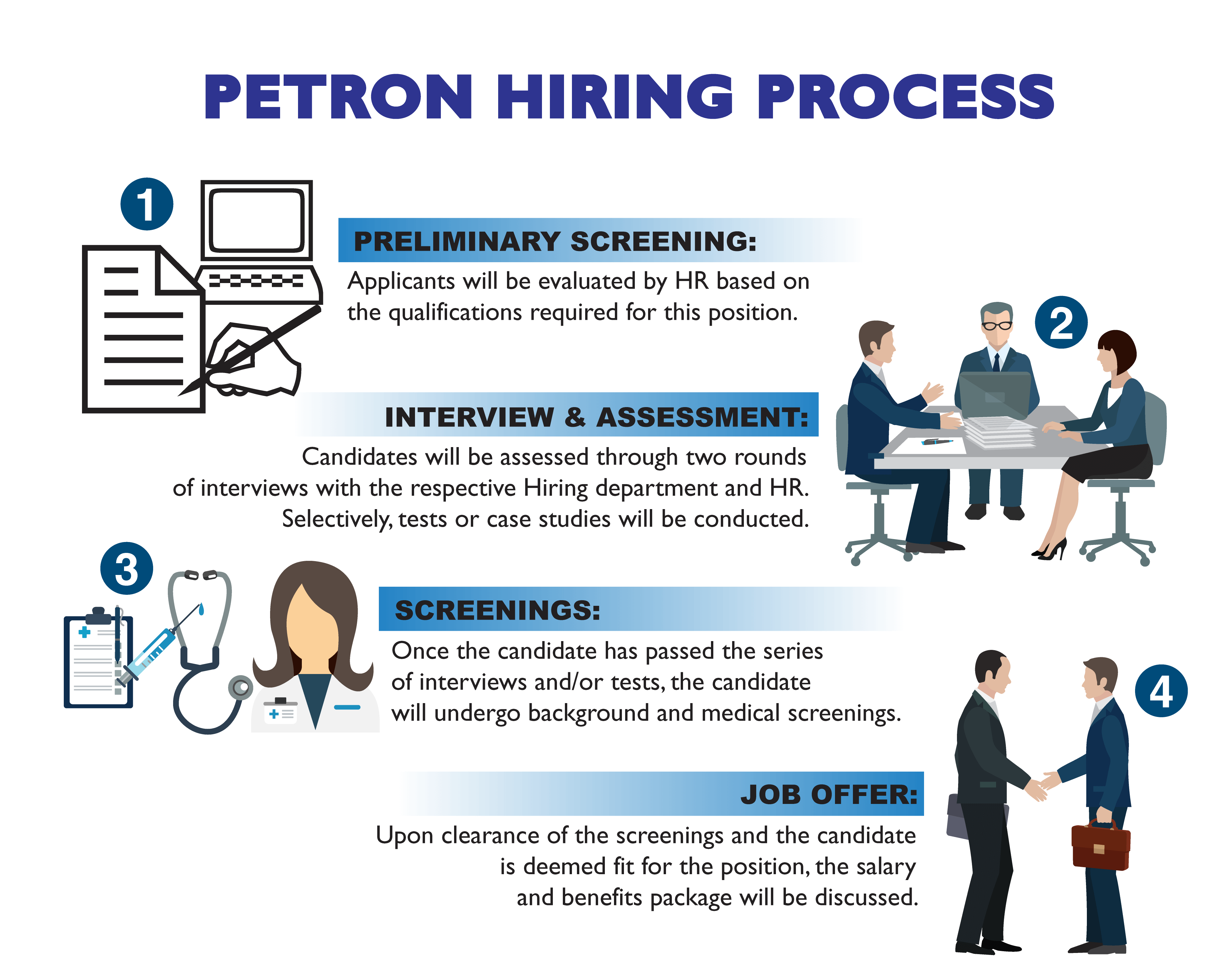 Interested? Please submit your resume to us at career@petron.com.my to secure an opportunity to grow with Petron.
For your enquiries, you may call us at +603-20828400 or +603-20828600
Please be aware that there have been numerous recruitment scams and fraudulent communications from organisations or individuals, purporting to act on behalf of Petron Malaysia and its subsidiaries in Malaysia, on false employment opportunities that have been circulating in emails, websites and printed materials.
Please note that all employment offers from Petron Malaysia and its subsidiaries in Malaysia are carried out officially and candidates are required to undergo a formal recruitment process. Petron Malaysia does not engage any recruiting or placement agencies that charge candidates an advance payment, fees or charges (e.g., placement fees, immigration processing fees, etc.) in the course of recruitment.
If you receive any communications that are doubtful in nature or request for personal and financial details, do not respond to the email as this may lead to cases of identity theft. We advise all job seekers who wish to join Petron in Malaysia to check for available positions that are advertised here in our official website or website of legitimate recruitment agencies and periodic advertisements in the newspapers.
Alternatively, you could direct your enquiry or interest of employment to our Human Resource Department at career@petron.com.my.