Be a part of Petron Malaysia
Our employees are our brand ambassadors and our most valued assets. As we continue to expand our business, we are seeking for fresh talents and high performing individuals who share our core values, who are dynamic and innovative, with the drive to make a difference and are fuelled to succeed.
IT Security Analyst, Finance
Responsibilities:
Responsible in establishing, implementing and maintaining Information Security Framework in accordance with global standards (ISO/IEC 27001:2005 / ISO 17799:2005)
Maintains IT Security Coordinator in designing and implementing security measures, controls and protocols of the company. Recognise security gaps and prepare an action plan
Perform regular security audits and provide reports
Manage IT security incidents
Monitoring and assessing network and systems activity to identify vulnerable points
Fully involved in IT-security-related projects
Communicates with all stakeholders on ISMS Framework and Risk Assessment
Stay updated with the latest security technologies and trends
Run Vulnerability Scanning and prepare reports.
Conducts assessment on security of new applications, websites/URLs, and programme prior to installation or upgrade
Requirements:
Bachelor's Degree or Diploma in Computing/Information Technology/Computer Security
Knowledge in Information Security Management System (ISMS) framework, Compliance and Risk Assessment
Minimum 3 years' experience in similar role
Strong knowledge of vulnerability management, patch management, firewalls, intrusion detection/prevention system and penetration testing
An analytical mind with excellent problem-solving ability
Ability to carry out investigations on security incidences as well as documents findings; hence essential to be able to define problems, collect data, establish facts and draw valid conclusions
Strong written and verbal communication skills
Knowledge of hardware and networking systems
Good time management
Corporate Communications Manager, Corporate Affairs
Responsibilities:
Plan and execute corporate communication strategy involving internal and external stakeholders
Support Company media management. Initiate, assist and oversee communication materials including but not limited to press releases, press kit, speeches, interviews, responses to customers/stakeholders, talking points and fact sheets
Work with internal stakeholders to develop key messages to support an effective PR and/or media engagement plans
Prepare media monitoring updates, analysis and reporting on monthly, yearly, and as and when required
Help manage issues and crisis communication for the Company. Become liaison officer to media during crisis management including preparation of holding statements
Manage production of Annual Report and quarterly newsletter within the timeline
Plan and coordinate Annual General Meeting and development of supporting event materials such as presentation deck, script, statement, etc
Plan annual corporate communication activities and budget plan
Requirements:
Bachelor's Degree in Communications, Journalism, Mass Communications, or any other related discipline
10 to 15 years of working experience in a communication role in listed companies
Excellent writing skills with a strong command of English and Bahasa Malaysia
Excellent and proficient in MS Office, Word, Excel, PowerPoint, and Publisher
Media savvy with a strong relationship with the media fraternity
Proficient in social media platforms
Excellent project management, analytical and problem-solving skills, independent creative and detailed-oriented
Able to interact effectively with all levels, adapting to various communications levels.
TM1 Developer, Finance
Responsibilities:
Senior TM1 Cognos Developer with expertise in TM1 application from design, testing, implementation and production support (SDLC)
Hands-on development and performance modeler in Cognos TM1
Model building ability, create dimensions, cubes, links, setup elements/cubes
Write complex rules & integrator processes (using TM1 cubes and reports)
Involve in troubleshooting issues as and when arisen and support during month end activities
Build, maintain & enhance financial systems (TM1) for budgeting/forecasting and reporting
Work closely with Controllers team in determining the financial requirements, translate into design and develop specific finance processes and reports
Setup and practice application security
Develop technical and functional design specifications and documentation
Documentation of the reporting requirement, user manual and other work procedures
Identify risk assessment and process improvement opportunities
Requirements:
Strong knowledge in TM1 IBM Cognos application and database query language
Strong understanding of all TM1 IBM Cognos Planning Analytics Interfaces including Planning Analytics Workspace (PAW), Planning Analytics for Excel (PAFE), TM1 Web, Perspectives and Architect
Bachelor's Degree or Diploma in Computing/Information Technology or equivalent
Minimum 3 years' experience in a similar role
Preferably with knowledge of financials
Knowledge in SAP applications is good to have
Excellent communication skills (both verbal and written)
Experience in documenting financial and technical design
Strong problem solving and analytical skills and ability to work together in a diverse team environment
Available to be on call to attend application issues after office hours
Chargeman, Refinery
Responsibilities:
To ensure electrical equipment are maintained as per required specifications and regulations under the Energy Commission Malaysia.
To inspect and repair all electrical equipment or experience in all repair works on site.
To prepare complaint reports based on notification of defects from mechanical and electrical sections.
To inspect and monitor works of sub­contractors based on work instructions.
To conduct final inspection and acceptance with sub­contractor upon completion of any repairs works.
Perform Preventive Maintenance on building equipment and system including HVAC system.
To undertake other duties and responsibilities as required.
Requirements:
Electrical Chargeman BO 11KV Certificate / Minimum Chargeman A4 Certificate issued by Energy Commission (EC) Malaysia.
Minimum Degree or equivalent.
Possess good communication skills with good command of English and Bahasa Malaysia.
Willing to be based in Port Dickson Refinery.
Marine Supervisor, Refinery
Responsible for the safe berthing and unberthing of vessels at the Petron Port Dickson Refinery product jetty, maintaining the facilities in safe working order and carry out cargo surveys onboard crude and product vessels.  He represents Petron Malaysia onboard crude vessels as a safety and pollution control officer during crude discharge.
Responsibilities:
Monitor and ensure on going compliance to all regulatory requirement /permit in respect of the jetty & SBM operations including mooring and pilotage services and towage in respect of vessel(s) berthing/unberthing at the jetty & SBM.
To perform ship / shore safety checklist and together with loading master / jetty technician conduct pre cargo transfer conference and ship/jetty round check for any deficiencies.
Paper vetting of nominated tankers to ensure that they meet with Safety Guidelines, Port Requirements, Jetty & SBM limitation and acceptability to the Petron Terminal.
Supervise a team of mooring crew and handles products estimated at 11 million barrels with more than 300 vessels per year.
Provide expert advice to Petron Refinery on marine matters and during cargo transfer at jetty and Petron SBM.
Perform as Marine Facilities Security Officer/ AMFSO as defined and act as deputy to Port Facility Security Officer for ISPS matters.
Provide jetty technician, technician-on-duty and Shift Superintendent at refinery control room with technical and professional advice on marine-related activities and information.
Participate in oil pollution incident, drills, exercise, response, investigation and report. Acts as Advisor to the Oil Spill Response Team when required.
Maintaining and supervising, the implementation of the Marine Facility Security Plan, and monitoring, the continuing relevance and effectiveness of the Plan, including the undertaking of internal audits and any amendments to the Plan.
To perform weekly inspection task on jetty condition and firefighting system and provide monthly report on jetty Safety Equipment and general Inspections.
Enforcement of SSHE procedures in the port area and or by Petron.
Requirements:
Must be holder of at least a Master's Certificate (Home Trade) or have worked as a pilot for at least 3 years' experience in a major seaport.
Good planning, supervisory, teamwork and interpersonal skills. Ability to work independently and manage multiple activities and people.
Possess good command of English.
Willing to be based at Petron Port Dickson Refinery.
Network Security Administrator, IT Division
Responsibilities:
Administer and support the network and security Infrastructure of the Company
Support, troubleshoot and rectify any network incidents and problems within SLA on network infrastructure which includes routers, switches, wireless access points, firewalls and IP telephony.
Perform installation, development, testing and deployment of new request or project based on required specifications.
Perform system configuration according to security policy and guidelines, and remediate any issues on security promptly
Provide Level 2 support to monitoring team and monitor all critical alerts on systems and ensure it is resolved.
Manage project delivery and implementation by vendors.
Perform documentation, reports related to operations and projects.
Qualifications:
Bachelor's Degree or Diploma in Computing/Information Technology or equivalent.
Minimum 3 years' experience in a similar role.
Attended / certified with CCNP or CCNA.
Possess hand-on skill in operating network devices including configuration, troubleshooting.
Strong knowledge in TCP/IP networking with good understanding of routing and switching technology.
Strong problem solving and analytical skills and ability to work together in a diverse team environment.
Available to be on call to attend network issues after office hour.
Territory Manager, Commercial
Responsibilities:
Manage and grow a portfolio of Commercial Business accounts, specializing in either Industrial Fuels / Liquefied Petroleum Gas (LPG) / Lubricants
Drive marketing programs to achieve planned volume, revenue, and margin growth
Actively keep a pulse on market and competitor activities and recommend strategic plans to maximize sales and profitability
Develop and achieve high customer & dealer satisfaction through value-added services and customer relationship management
Build and maintain strong customer relationship with key resellers, with clear understanding of integrated business economics and logistics to further enhance effectiveness
Work closely with business support, supply chain, distribution, and governing bodies
Identify and secure new business opportunities
Requirements:
Degree in Engineering / Business / Economics.
Preferably 3 years' experience in industrial fuels / LPG / lubricant sales or sales related field.
Strong interpersonal, negotiation and analytical skills.
Fresh Graduates with outstanding academic results are also encouraged to apply.
Willing to travel and possess own transport.
Willing to be based throughout Peninsula Malaysia.
Partnership Advisor, Marketing
Responsibilities:
Partnership Advisor is responsible for cultivating, maintaining and developing relationships among business partners. To identify ways to increase revenue for all companies in the partnership by helping each partner capitalize on their strengths and manage weaknesses.
Remain in frequent regular contact with all partners, championing and guiding new projects that will create stronger partnerships.
Actively negotiating and maintaining new initiatives or promotions with vendors.
Seek new potential partners that can enhance business opportunities and pursuing new business either online or offline partner.
Ensure all communication; EDM and SMS that goes out meet the brand guidelines.
Manage end-to-end planning and management of any promotion that involves various stake holders; Retail Sales, Convenience Retailing, Controllers and Loyalty Operation.
Develop proposals and present to stakeholders.
Manage day-to-day work which includes budget planning, results monitoring, monthly/quarterly reports, memo submission and approval process etc.
Manage Mobile App programs and maintain high engagement rates and meet KPI targets.
 Requirements:
Degree in Business Admin, Marketing, Mass Communications, Public Relation or relevant.
Minimum 3 years' experience in partnership, marketing or any related field.
Possess strong communication, coordination and negotiation skills.
Flair for written and spoken English.
Supply Logistic Coordinator, Supply
Roles & Responsibilities:
Coordinate with various supply functions, internal contacts and third parties in ensuring proper logistics execution for all import and export of petroleum products and crudes.
Ensures that the distribution terminals have timely product replenishment and enables the refinery to operate without overfilling of product tankage.
Execute supply contracts concluded by Traders by ensuring that replenishment vessels arrive on time, with the agreed quality, quantity and cost.
Coordinate with Treasury for adequate funding and risk coverage.
Arrange surveyor attendance and ensure vessel agent coordination for proper field documentation.
Monitors crude and product imports, product exports, local supply sales, and purchases.
Monitor and negotiate claims relating to oil loss, demurrage and vessel related matters.
Develop and recommend programs and procedures that will keep transhipment cost and demurrage to a minimum and implements conservation measures to arrest oil losses in vessels.
Coordinates with industry counterparts on borrow and loan, rationalized ports, and other mutually beneficial arrangements.
Manage claims on penalties
Advises actual or potential problems to Supply Logistics Manager, Supply Planning Refinery Coordinator and Terminal. Make and recommend evaluation/solution to the problem.
Prepare payment transactions in accordance with the approval limit.
Perform other tasks that may be assigned by the Supervisor from time to time.
Requirements:
Fresh graduates are welcome to apply.
Preferably Degree in Engineering with 2 to 3 years exposure in terminal operation.
Must be able to interpret contracts.
Analytical and creative thinker to create incremental gains.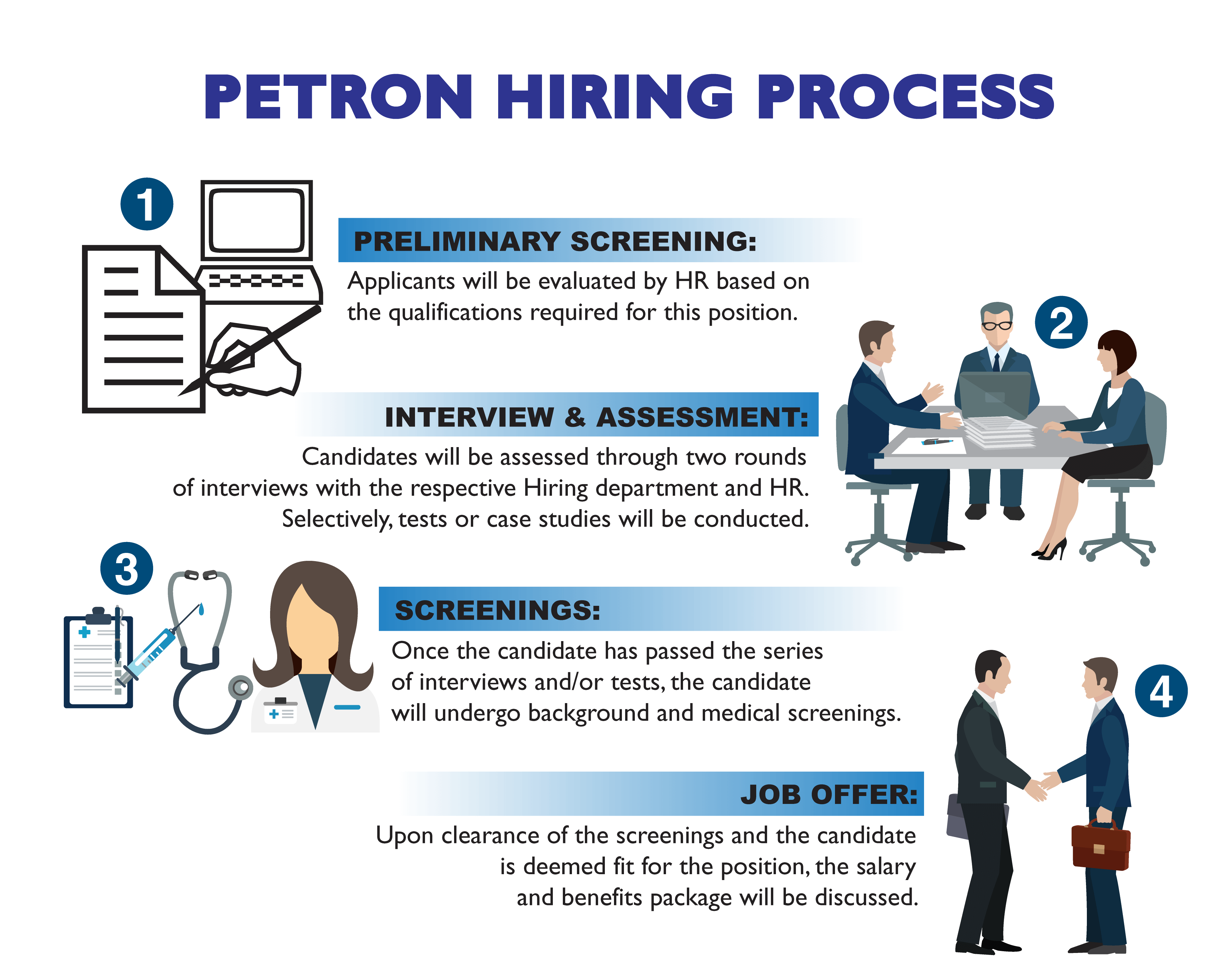 Interested? Please submit your resume to us at career@petron.com.my to secure an opportunity to grow with Petron.
For your enquiries, you may call us at +603-20828400 or +603-20828600
Please be aware that there have been numerous recruitment scams and fraudulent communications from organisations or individuals, purporting to act on behalf of Petron Malaysia and its subsidiaries in Malaysia, on false employment opportunities that have been circulating in emails, websites and printed materials.
Please note that all employment offers from Petron Malaysia and its subsidiaries in Malaysia are carried out officially and candidates are required to undergo a formal recruitment process. Petron Malaysia does not engage any recruiting or placement agencies that charge candidates an advance payment, fees or charges (e.g., placement fees, immigration processing fees, etc.) in the course of recruitment.
If you receive any communications that are doubtful in nature or request for personal and financial details, do not respond to the email as this may lead to cases of identity theft. We advise all job seekers who wish to join Petron in Malaysia to check for available positions that are advertised here in our official website or website of legitimate recruitment agencies and periodic advertisements in the newspapers.
Alternatively, you could direct your enquiry or interest of employment to our Human Resource Department at career@petron.com.my.