Be a part of Petron Malaysia
Our employees are our brand ambassadors and our most valued assets. As we continue to expand our business, we are seeking for fresh talents and high performing individuals who share our core values, who are dynamic and innovative, with the drive to make a difference and are fuelled to succeed.
Emergency Response (ER) Coordinator, Refinery
Roles & Responsibilities
Promote and ensure Fire standards and policies are adhered and Fire Safety values and initiatives are implicit in site business processes
Demonstrate commitment to POIMS by being an active and visible System Owner and to oversee effective POIMS implementation / sustenance
Provide leadership and solutions on ER matters to ensure proper safeguarding and wellbeing of company assets
Lead, collaborate and maintain effective working relationships with ER-related Statutory Authorities (BOMBA, DOE, POLICE, MKN, MOH) and Mutual Aid Group (Hengyuan Refinery and PIMMAG) for ERP response resources
Communicate with employees & contractors in response to fire protection system, oil spill responders, industry mutual aid, medical responders, maintenance, and other supporting groups
Develop ERP training programs with Training Coordinator ERP Team members
Develop comprehensive Emergency (Fire) and Oil Spill Response exercise and scenario-based drills for process operations
Facilitate line management testing and maintenance of all emergency response fixed and mobile equipment
Facilitate regular audits and testing of emergency response equipment and compliance standards (including site oil spill response capability)
Requirements
Degree in Engineering / Applied Science / SSHE
Minimum 5 years ERP experience in Refinery or Oil & Gas work environment
Knowledge of National Fire Protection Association (NFPA) standards, Emergency Response (ER) training & Bomba Act
Territory Manager, Commercial
 Roles & Responsibilities:
Manage and grow a portfolio of Commercial Business accounts, specializing in either Industrial Fuels / Liquefied Petroleum Gas (LPG) / Lubricants
Drive marketing programs to achieve planned volume, revenue, and margin growth
Actively keep a pulse on market and competitor activities and recommend strategic plans to maximize sales and profitability
Develop and achieve high customer & dealer satisfaction through value-added services and customer relationship management
Build and maintain strong customer relationship with key resellers, with clear understanding of integrated business economics and logistics to further enhance effectiveness
Work closely with business support, supply chain, distribution, and governing bodies
Identify and secure new business opportunities
Requirements:
Degree in Engineering / Business / Economics
Preferably 3 years' experience in industrial fuels / LPG / lubricant sales or sales related field
Strong interpersonal, negotiation and analytical skills
Fresh Graduates with outstanding academic results are also encouraged to apply
Willing to travel and possess own transport
Willing to be based throughout Peninsula Malaysia
LPG Business Analyst, Commercial
 Roles & Responsibilities:
Evaluate and monitor performance of L&S business division to meet and manage all sales & planning activities based on overall company objectives
Work closely with managers, team members and lubes distributors to develop long and medium-term strategies as well as medium and short-term plans and programs
Analyze and optimize performance of distributors and supply chain
Monitor effectiveness of processes, programs and investments
Analyze and propose changes to the business model and processes to continually achieve profit, volume and margin plans
To support special projects, including export sales
Requirements:
Degree in Engineering / Science / Business Administration or Economics with outstanding result
Preferably 2 years' technical experience in Sales/Marketing or planning Investment analysis
Understand business drivers with ability to interpret data and provide conclusions
Good oral and written communication skills, with ability to conduct business presentations
Good interpersonal and people management skills for both lateral and upward interfaces in the company as well as interfaces with customers and external parties
Fresh Graduates with outstanding academic results are also encouraged to apply
Contract Analyst, Retail
Roles & Responsibilities:
To lead the execution and monitoring of Contract related matters which includes preparation of agreements, setting up fixed asset rental charges, follow up on licenses expiry, liaising with government office.
Provides contract administration assistance to various parties based on their requirements.
Monitor, prepare and liaise closely with Retail Sales Team to ensure Service Station License Agreements (SSLA) are renewed before its expiry to avoid disruption in supply.
Monitor and liaise closely with Retail Acquisition and Development Team to ensure Retail Trade Agreements (RTA) are renewed before its expiry.
To set up correct fixed asset rental charges in SAP based Schedule 12 of signed SSLA before its expiry.
Maintain proper tracking and follow up to ensure that licenses (PDA/SCA) for Retail/Commercial are renewed before its expiry.
Calculate Additional Margin for stations by monthly for Billing Team to issue payment.
Download and check daily pricing audit trail setup by CS-Pricing to ensure prices are correctly updated.
Prepare Sales Purchase Agreement (SPA) for new and existing commercial customers and in charge of account activation upon acceptance of valid licenses.
Travel, liaise and negotiate with IRBM on stamping fee of agreements on ad-hoc basis bases on request from various parties.
Custodian of Retail and Commercial agreements involved in scanning, binding and safekeeping the licenses and agreements.
In charge if executing tasks: Site Maintenance Allowance (SMA) yearly payments to dealers, preparation of Memo on approved agreement tenure for management's approval, Annual Volume Review (AVR), Yearly Rental Verification Exercise.
Review current contract processes from time to time to identify if there are room for improvements.
Requirements:
Degree in Statistics, Engineering, Business Admin/Finance preferable with CGPA minimum 3.30 above.
Minimum 1-2 years' related experience.
Experience in SAP – Billing and Invoicing module.
Strong in MS Excel.
Meticulous and high attention to details
Highly analytical.
Senior Business Analyst (CAPEX), Business Planning
Roles & Responsibilities:
Develop the annual budgeting/planning guidelines & assumptions, and planning calendar for the formulation of Business/Operating Plans
Coordinate the yearly Business Plan Process, Mid-year review, Kick-off & alignment meetings
Conduct annual Planning Session with Mancom and various planning teams for the updated planning guidelines
Coordinate development of long-term strategic plan by assisting business lines (BLs) together with the Business Advisors (BA) to:

Identify, analyze and evaluate strategic planning issues, concerns and matters relevant to the company
Analyze the evolving trends in the environment (local, regional, global) that would impact competitiveness

Review, consolidate and endorse for management and Board approval the annual capital programs, as well as 5-yr business plan by:

Consolidating the different BLs' plans and programs in line with overall company direction
Coordinating with the BLs' planning groups to thresh out issues and concerns
Coordinating with relevant departments to ensure implementation of company policies and standards regarding legal, technology use and safety-related compliance

Update CAPEX approval process, as needed, and cascade changes to various BLs.
Review capital expenditures (CAPEX) proposal submissions from the various BLs arising from the approved capital program as endorsed by the BAs, focusing on economics and alignment with overall company direction
Prioritise CAPEX proposals to be funded against available cash as provided by Business Analysis and Reporting
Coordinate CAPEX proposal submission for management endorsement and approvals, both in-country and Manila Head Office
Establish post-facto analysis process with BLs and review analysis submissions from BLs through Bas
Serve as administrator of the Proposal Approval System (PAS).
Update users and parameters within the system, as needed, including uploading annual capital program
Coordinates with IT for system issues and potential system enhancements to address identified issues
Requirements:
Degree in Accounting, Finance, Chemical Engineering, Economics or Mathematics
Minimum 3 years corporate staff work, especially with Corporate Planning or Management Accounting, preferably involving investment analysis; OR
Minimum 3 years work with strong planning orientation, e.g. supply/market/refinery or project planning
Strong numerical, statistical and financial analysis skills, including investment analysis
Strong communication skills, both oral and written
Advanced skills in MS PowerPoint and Excel, working with formulas
Meticulous and detailed
IT Planning and Security Coordinator, IT Division
Roles & Responsibilities:
Establishes, implements, and maintains Information Security Framework in accordance withglobal standards (ISO/IEC 27001:2005 / ISO 17799:2005)
Maintains IT security controls documentation
Designing and implementing security measures, controls, protocols of the company.
Recognize security gaps and prepare an action plan.
Perform regular security audits and provide reports
Monitoring and assess network and systems activity to identify vulnerable points
Perform IT-security related projects
Communicates with all stake holder
Stay up to date with latest security technologies and trends
Job Requirements:
Bachelor's Degree or Diploma in Computing/Information Technology/Computer Security Specialist or related field
Minimum 5 years' experience in a similar role
Knowledge of patch management, firewalls, and intrusion detection/prevention systems
An analytical mind with excellent problem-solving ability
Strong written and verbal communication skills
Knowledge of hardware and networking systems
Experience in handing a team
Good time management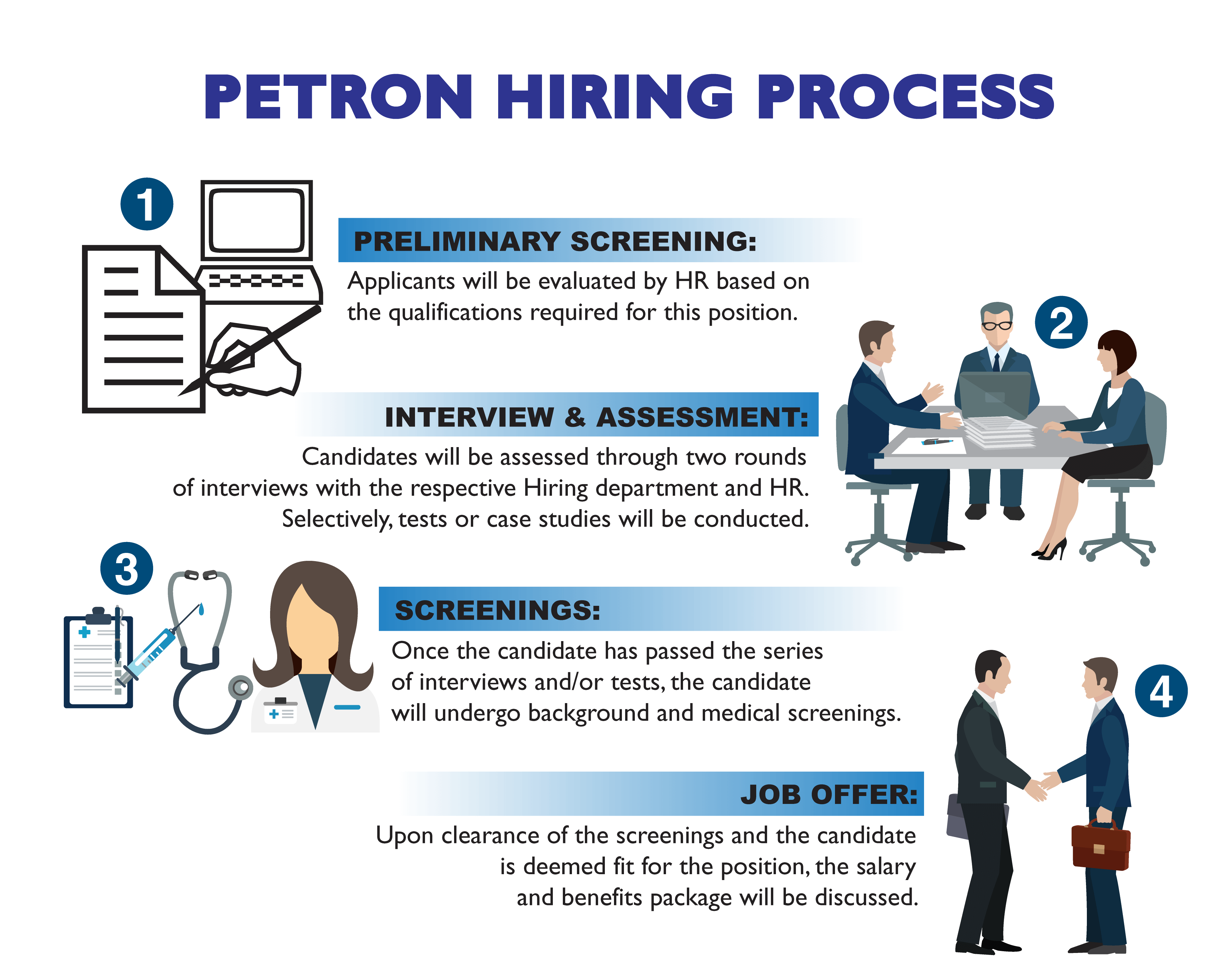 Interested? Please submit your resume to us at career@petron.com.my to secure an opportunity to grow with Petron.
For your enquiries, you may call us at +603-20828400 or +603-20828600
Please be aware that there have been numerous recruitment scams and fraudulent communications from organisations or individuals, purporting to act on behalf of Petron Malaysia and its subsidiaries in Malaysia, on false employment opportunities that have been circulating in emails, websites and printed materials.
Please note that all employment offers from Petron Malaysia and its subsidiaries in Malaysia are carried out officially and candidates are required to undergo a formal recruitment process. Petron Malaysia does not engage any recruiting or placement agencies that charge candidates an advance payment, fees or charges (e.g., placement fees, immigration processing fees, etc.) in the course of recruitment.
If you receive any communications that are doubtful in nature or request for personal and financial details, do not respond to the email as this may lead to cases of identity theft. We advise all job seekers who wish to join Petron in Malaysia to check for available positions that are advertised here in our official website or website of legitimate recruitment agencies and periodic advertisements in the newspapers.
Alternatively, you could direct your enquiry or interest of employment to our Human Resource Department at career@petron.com.my.