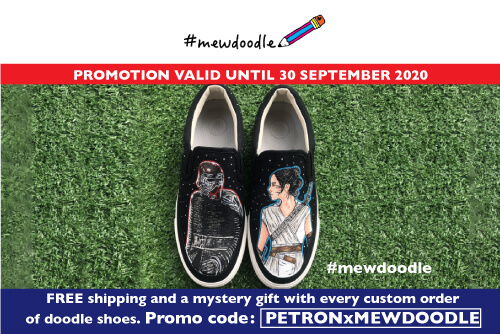 All shoes will be custom made upon request. Check out MewDoodle Facebook and talk to the designer. Enjoy FREE shipping and receive a mystery gift by mentioning the campaign code PETRONxMEWDOODLE
Terms & Conditions
1. Promotion is valid from 15 August – 30 September 2020.
2. Get free shipping and one mystery gift with every order of customized doodle arts product from MewDoodle Facebook.
3. Customers can inquire and make orders via MewDoodle Facebook messenger.
4. Customers are required to mention the campaign code PETRONxMEWDOODLE to redeem for free shipping and mystery gift.
5. Not valid with other voucher code and promotions, unless otherwise stated.
6. MewDoodle and Petron reserve the right to change the terms and conditions or cancel any promotions at any time without prior notice.