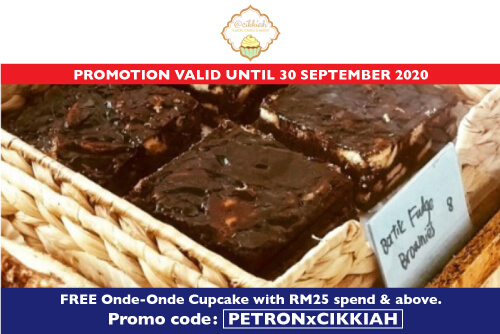 Get Cikkiah's bestselling Onde Onde cupcake when you spend RM25 or above. To redeem, follow steps below:
1. Check out Cikkiah's weekly menu on Cikkiah Instagram available on every Thursday.
2. Fill up their weekly Order Form.
3. WhatsApp to 017-562 9101 upon form completion to confirm orders.
4. Mention campaign code PETRONxCIKKIAH in WhatsApp to redeem the free onde onde cupcake.
Terms & Conditions
1. Promotion is valid from 15 August – 30 September 2020.
2. Minimum purchase of RM25 of any bakes is required to redeem for the free Onde Onde Cupcake.
3. Subject to availability. Cikkiah reserved the right to replace Onde Onde Cupcake with other bakes of the same value upon unavailability.
4. Customers can make orders via Cikkiah Instagram.
5. Customers are required to mention the discount code PETRONxCIKKIAH to redeem for the free Onde Onde cupcake upon ordering.
6. Not valid with other voucher code and promotions, unless otherwise stated.
7. Cikkiah and Petron reserve the right to change the terms and conditions or cancel any promotions at any time without prior notice.