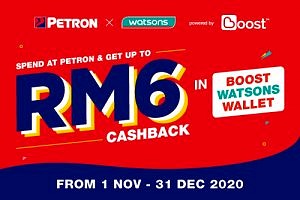 Promo Mechanics: 
1. Petron customers spend minimum of RM30 MOGAS purchase via Boost E-wallet in a single receipt to receive RM3 Watson cashback.
2. Likewise, Watson customer must spend a minimum of RM30 purchase via Boost e-wallet to receive RM3 cashback
3. Cashback will be given in PETRON wallet or WATSON Wallet via Boost E-wallet immediately.
T&C:
1. Each customer is eligible for a maximum of 2 cashbacks during promotional period.
2. Cashback expires in 14 days from date of issuance
3. Limited 40,000 cashbacks throughout promotional period